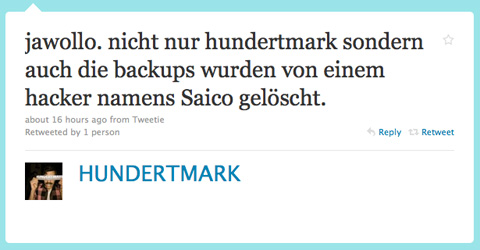 HUNDERTMARK Blog wurde gestern Abend gehacked. Seitdem bohrt @Phillipp tiefer und tiefer um den Grund für die Schweinerei zu finden und um seinen "vom Server gelöschten" Backup zu finden. Seitdem machen auch andere Blogger fanatisch Backups und sichern Dateien 3- und 4-fach. In so einer Situation ist aber auch wichtig, dass man auch auf Umwege die verlorenen Daten wieder findet und Support zeigt.
Deswegen drückt hiermit GRATEFUL GRAPEFRUIT zusammen mit den Blogrebellen den Support für HUNDERTMARK Blog aus und erinnert an eine der Trademarks von HUNDERTMARK – die kunstvolle GIF-Sammlung von Phillipp!
GRAPHICS INTERCHANGE FORMAT – EINE KUNSTVOLLE GIF SAMMLUNG
By Philipp. Posted 14/08/2009 at 10:48. Filed under Allgemein, Art, DIY, Design, Film, Fotografie, Gifsammlung, Humor and tagged Animation, Breshnev, Brezhnev, Evolution, Film, GIF, grafik, Graphic, Graphic Interchange Format, Growing Dot, Patrone, REPOST MY ASS. Permalink. Subscribe to this post's comments. Post a comment or leave a trackback.
Gifs sind im allgemeinen wohl doch eher hässlich, zum kotzen und werden von 15-jährigen Teeny-Müttern zum chatten verwendet.  Es gibt aber auch Leute die aus bewegten Bildern wahre  Kunstwerke machen. Hier ein paar schöne die sich im Verlauf der letzten Wochen angesammelt haben.
Lasst euch Zeit beim Laden.
via
via
via
via
via
via
via
via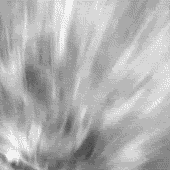 via